Xplosion forward bound for Binghamton
9/25/09 - 12:32 PM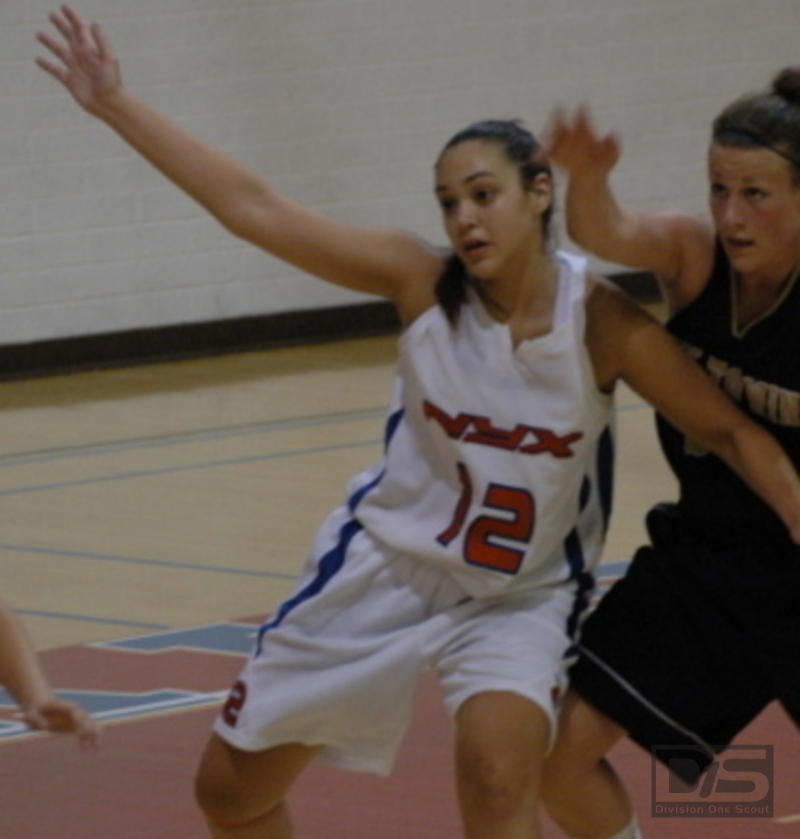 Xplosion forward Kyra Aloizos committed to Binghamton this week.
September 03, 2009 ι By Marc Raimondi
Kyra Aloizos had plenty of time. The senior on the Archbishop Molloy girls' basketball team could have waited on choosing a school until the NCAA live period in the fall or even after the school season, where she was sure to draw some more interest.
Molloy senior forward Kyra Aloizos committed to Binghamton this week.
But waiting never occurred to the 6-foot-1 forward. Aloizos verbally committed to Binghamton University on Wednesday during a visit to the upstate New York school. She had been there last week and her second trip to the sprawling campus sealed the deal.
"I just felt really comfortable with Binghamton," Aloizos said. "I really like it there."
Sometimes it's best to wait, but Aloizos went with her gut. Her skills – strength, size, excellent footwork and one of the best outside touches for a big girl in New York City – projected on a higher level than the America East, where she'll be playing next year.
There were a few factors that went into the decision, though. Binghamton is a solid academic school and has her major (graphic design). It's also only a 2-1/2 hour drive from Aloizos' Westchester home. Her parents, Stavros and Doreen, are mainstays at all of her games and she didn't want that to change.
"I didn't want to go somewhere far," she said. "To not have them be there every game would be weird."
Aloizos is the second player from Cecala's NY Xplosion team to earn a Division I scholarship this summer. Kelly Robinson, a point guard at Francis Lewis, committed to UMass last month.
Like Aloizos, Robinson could have waited for more offers to come, but was comfortable with what she had. I think it'll be a good fit for both. I expect to see them as starters at their respective schools before too long.
---
Xplosion point guard Kelly Robinson chooses UMass
8/4/09 - 12:31 PM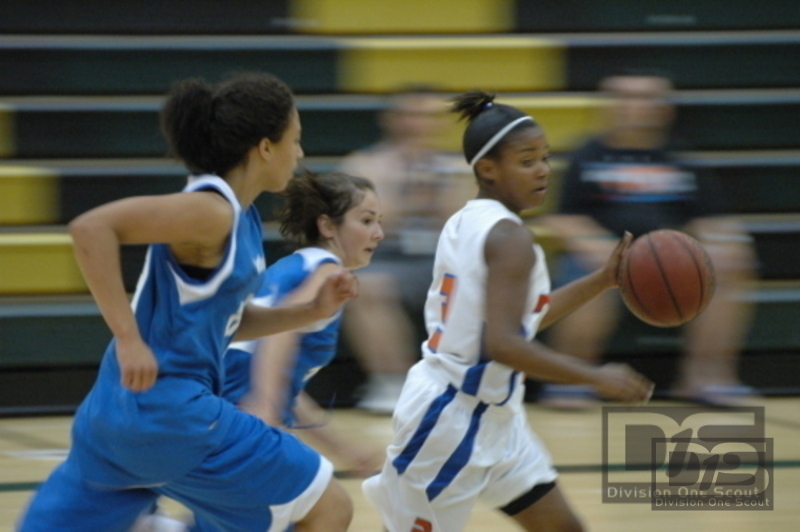 Xplosion guard Kelly Robinson committed to UMass on Sunday. Photo by Doreen Aloizos
By Marc Raimondi August 3, 2009
The second time was the charm.
Francis Lewis rising senior point guard Kelly Robinson knew all along that the University of Massachusetts would be a good fit for her. Her family's trip to Amherst on Sunday, Robinson's second time seeing the school, confirmed it.
"It's just the atmosphere," she said. "It's one of those places that, when you see it, you just know you want to go there."
So, the 5-foot-6 pure point didn't want to wait any longer. Robinson committed to UMass on Sunday, spurning schools like Marshall, LaSalle and Sacred Heart. The decision comes before her senior season at Lewis and timing was also a factor.
"It's a relief," Robinson said. "Now I know where I'm going. I can focus on getting there."
Robinson transferred to Lewis from Archbishop Molloy this past year. She averaged 10.1 points and 8.5 assists per game to lead the Patriots to the PSAL Class AA quarterfinals, where they fell to eventual champion Murry Bergtraum. Her assists average led all of PSAL 'AA' and she was honored among the league leaders at halftime of the city championship game at Madison Square Garden.
"She's a floor general," said Dom Cecala, her AAU coach with the NY Xplosion and former Molloy coach. "She has such a great gift of seeing the floor. I think she has a chance to play right away and contribute as a freshman."
Cecala called Robinson's July "great" and said some other colleges were coming on late to her recruitment. But Robinson wanted to reward UMass, which had been around for a long time.
"I like [UMass]," she said. "I didn't want to second guess myself."
Robinson started the off-season winning the MVP award at the Wheelchair Charities HS Basketball Classic at Long Island University in April. She had just two points, but ran a brilliant point on a team that featured Big East-bound players Stefanie Dolson (UConn), Christine Huber (Rutgers), Eugeneia McPherson (St. John's) and Terry Green (Seton Hall).
"I think the Atlantic-10 is a good fit for her," Cecala said. "It's a good level of competition."
Focusing on the upcoming season is important to Robinson not just because it's her senior year. Francis Lewis had a middling season due to the drama of coach Mike Eisenberg's ouster and the emergence of Steve Tsai, a school guidance counselor, as coach. A team that had the potential to be a PSAL Class AA city title contender ended up earning just a No. 9 seed.
None of that was really Robinson's fault though, as she emerged as one of the elite point guards in New York City.
"She's gotten better every year since she was 10 years old," said Cecala, who has been coaching her for that long. "UMass was the best fit for her."
mraimondi@fiveborosports.com
---
Aloizos looks primed for a summer Xplosion
6/29/09 - 07:30 PM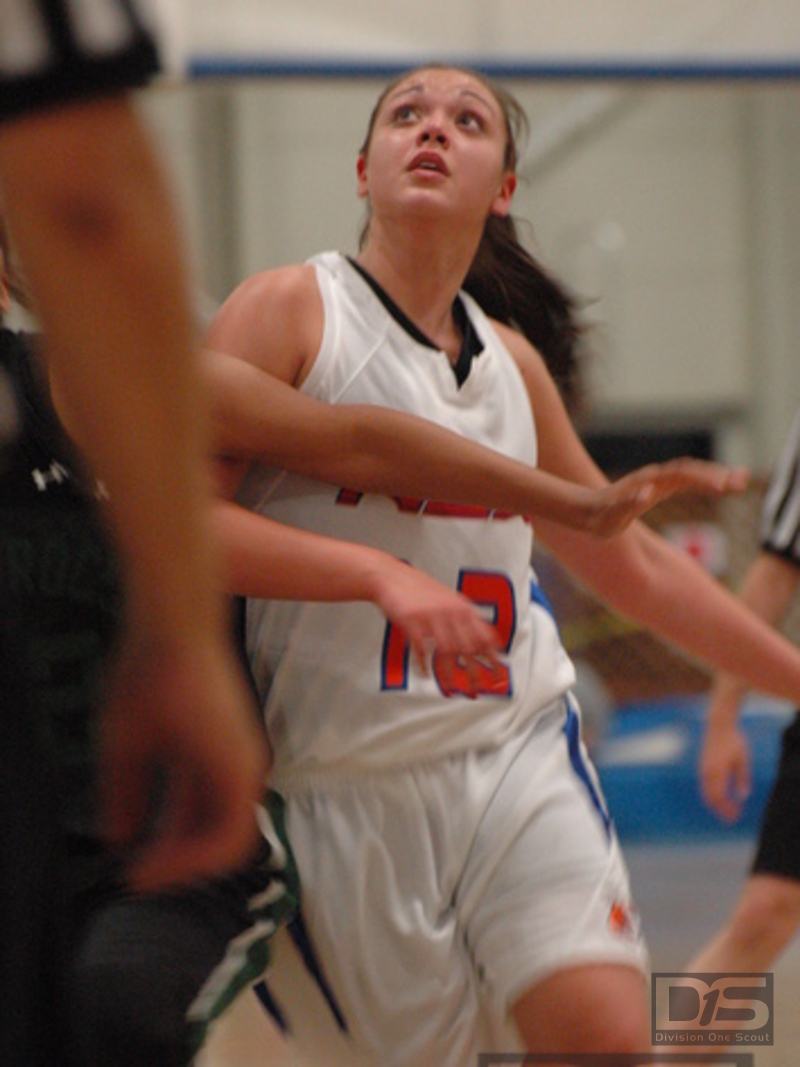 Xplosion forward Kyra Alozios had 19 points Sunday against the NYC Heat at the Who's Got Game? Challenge.
By Marc Raimondi June 28, 2009
WEST HEMPSTEAD, L.I. – Kyra Aloizos is ambidextrous. And she really had no choice in the matter.
"My dad, when I was 6 years old, had me take shot after shot with my left hand," the Archbishop Molloy rising senior said with a laugh. "I've benefited from it, so that's OK."
Aloizos showed off those skills with a few lefty layups and up and under moves Sunday for the host NY Xplosion at the Who Got Game? Challenge at Island Garden. In an early game, the 6-foot-1 forward dropped 19 points in a victory against the NYC Heat and a few of her Molloy teammates.
It was a performance that wasn't seen on a consistent basis with the Stanners this season. But this is a new Aloizos. She's lost 20 pounds, is working on being more aggressive and has improved an already formidable jump shot – she even drained a pair of 3-pointers in a game Saturday night.
"We've been working on her rebounding and her aggressiveness under the basket," Xplosion coach Dom Cecala said. "I think she's gonna have a good summer. She didn't have the season she wanted in high school and that was obvious."
This is a crucial stretch for Aloizos. She already has interest from schools like Fordham, Virginia Commonwealth, Northwestern, George Washington, Rhode Island and Marshall. Aloizos' 92 average at Molloy, one of the better academic schools in the city, certainly helps. But with her size and physical tools, the sky is the limit.
Mental things held her back this season. Aloizos was adjusting to a new coach in Tom Catalanotto and a new system. Cecala, the school's former interim coach, was not brought back to Molloy.
"It's not about her skill level and her ability," said her father, Stavros. "It's about her getting down on herself. She's a competitor."
Aloizos had a handful of head-turning games for the Stanners this season. But it was the kind of season that she could go for 20 points one night and put up three the next. Aloizos was a FiveBoroSports.com All-Queens third team selection and could very easily be a first teamer and all-city choice her senior season.
"The key for her is consistency," Cecala said.
Dropping the weight, Aloizos said, was a necessity. She said she might not be able to play power forward in college and in order to play on the wing, she'll have to improve her guard skills.
"I'm running the floor better, I'm jumping higher," Aloizos said. "I needed to. … I'm working on expanding my game."
She might have even extended the range on her jump shot, which was already rather impressive.
"If they leave her open and back off her because she's a big, that's when she's dangerous," Cecala said. … "Out of all the posts I've seen in New York City, she has one of the sweetest jump shots."
The other things seem to be rounding into form, too. There seem to be plenty more of those ambidextrous moves on the horizon for Aloizos.
"If they give me the left," she said, "I'll take it."
mraimondi@fiveborosports.com
---
Kelly Robinson and Kyra Aloizos Selected to the Rose Classic 1st and 2nd Teams
6/15/09 - 03:34 PM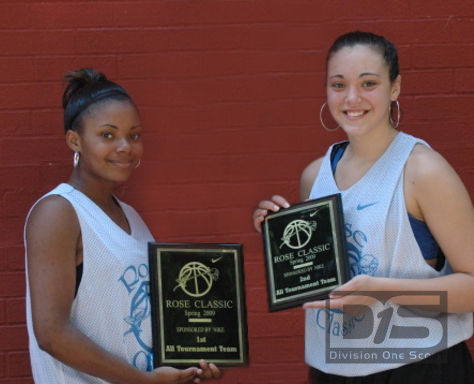 Kelly and Kyra after participating in the 2009 Rose Classic Alll-Star Game
Kelly Robinson And Kyra Aloizos were selected to the 2009 Rose Classic All-Tournament team along with some of the top ball players in the country. Exodus NYC guard Bria Hartley, Golden Girls guard Shenneika Smith, New Heights forward Porsha Postell, Swagger Like Us guard Alicia Cropper and NY Xplosion guard Kelly Robinson were named to the All-Rose Classic first team. The second team was Exodus NYC guard Jennifer O'Neill, Team Prince guard Baytania Newman, Brooklyn Saints forward Jessica Previlon, NY Xplosion forward Kyra Aloizos and Team Freckles forward Latorri Hines-Allen.
---
Evans Is The Connecticut Day's All-area Girls' Basketball Player Of The Year
4/28/09 - 01:00 PM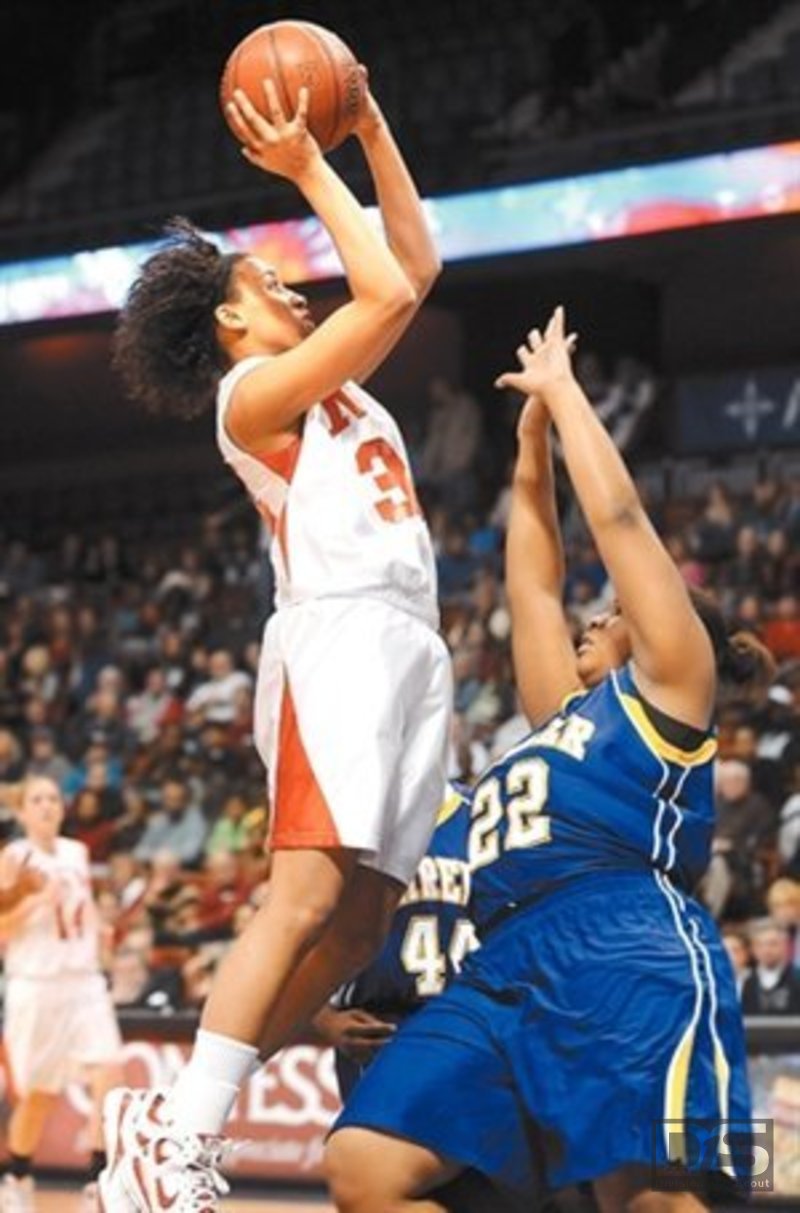 Kastine Evans, The Day's All-Area Girls' Basketball Player of the Year, saved her best for the biggest moments. In the Class LL final against Career of New Haven, the junior scored 24 points and grabbed 15 rebounds to earn MVP honors in the Wildcats'
By Ned Griffen Published 4/28/09
Kastine Evans can't remember where she read the phrase, "face of a champion," but it stuck with her.
"A face can tell a lot about a person," Evans said.
It wouldn't be accurate to say that Evans has a poker face - she lets loose with a whoop or two during basketball games - but she had a look this season as a junior at Norwich Free Academy that spoke of placidity.
"You can't get too hot-headed or get too high in a game," said Evans, The Day's 2009 Girls' Basketball Player of the Year, who led NFA to a Class LL state championship. "It could turn that easy on you if you get to a point where you aren't in control of yourself anymore. You always have to be in control of yourself."
The bigger the moment, the more Evans was in control of the game.
Case in point: Career of New Haven was mounting a comeback against the Wildcats during the Class LL final and NFA had to inbound the ball.
As the Panthers applied some defensive pressure against the Wildcats, Evans took a moment to go to one knee and tie her shoe as if nothing were happening.
"That's been a big change, I think, her maturing," NFA coach Bill Scarlata said. "She seems to play within herself more and takes the game in stride."
It was a rare moment Evans took off. In what was the biggest game of her high school career, Evans put on a show in front of 3,554 fans at Mohegan Sun Arena.
Evans had a game-high 24 points, 15 rebounds and four steals to earn MVP honors in a 63-42 win. More importantly, she held Anisha Wilson, Career's Miami-bound point guard, to 4-of-17 shooting and 10 points.
It wasn't the first time her junior year that Evans played her best in a big spot. During the fall, she played for the girls' volleyball team, which advanced to its first state final.
Evans struggled in the first game of the Class LL championship match against rival Fitch and NFA fell behind 2-0 in games. But Evans helped the Wildcats rally to a five-game win. She had 31 assists and 29 kills to earn MVP honors.
Asked about playing her best in big moments, Evans said, "I think it's just a want of something so great."
Said Scarlata: "She had some big games near the end of the season, but she played well in all the other games, too. It might not have seemed like that because everyone else was more involved, but she was pretty steady."
Evans averaged 19.7 points and three steals for the Wildcats (24-2), who also won the Eastern Connecticut Conference championship.
"Over the summer, I worked a lot more on being able to shoot off the dribble," Evans said. "Last year, I was more of a set shooter. This year, I couldn't be dependent on that since many teams were playing a box-and-one. That's the best way to beat a box-and-one, hit your shot off the dribble.
"I think I had a lot more assists this year. That comes with my teammates getting open a lot more and having more trust with each other."
---
Xplosion Elite Players Recieve Five Boro Sports All Queens Honors
4/28/09 - 12:26 PM
G Kelly Robinson, Francis Lewis (All Queens First Team)

The junior embodied the phrase "true point guard" in her first season at Francis Lewis after transferring from Archbishop Molloy. Robinson led all of PSAL Class AA in assists and scored when she needed to for the Patriots. She was a calming presence despite the adversity at Lewis this season, with longtime coach Mike Eisenberg being reassigned. She was certainly missed at Molloy and Robinson should be one of the top point guards in the city next season.
F Nia Oden, Christ the King (All Queens Second Team)

Christ the King coach Bob Mackey could keep Oden out of the starting lineup as much as he wanted to, liking her energy off the bench. The sophomore played just too well, though, giving the Royals a super athletic, smart and intangibles player, who could have a double-double on any given night and come up with key plays. Her future is very bright.
Kyra Aloizos, Archbishop Molloy (All Queens Third Team)

At her best, the junior was Molloy's most versatile offensive threat. At 6-foot-2 with tremendous strength, Aloizos could bang down low with any player in the city. But she could also step out and hit the 15-foot jumper better than most big girls around. Aloizos should step up and be one of Molloy's stars next season.
C Sabrina Jeridore, Francis Lewis (All Queens Third Team)

The 6-foot-3 true center has some of the best offensive post moves in the city. Jeridore is extremely polished down low and uses her size well. She struggled at times this year, though, with nagging knee injuries. And, like the rest of Lewis, which went through plenty of adversity this year, was prone to inconsistency. Look out for the Bayonne (N.J.) transfer next year with a PSAL season under her belt. Jeridore is a sure-fire mid-to-high Division I player.
---
Kelly Robinson Wins 35th Annual Wheelchair Classic MVP
4/16/09 - 01:50 AM
Robinson, Queens/LI prevail in Wheelchair final
By Marc Raimondi April 15, 2009
It was a team featuring some of the best players on the East Coast. Stefanie Dolson has verbally committed to UConn. Christine Huber will play at Rutgers. Eugeneia McPherson is headed to St. John's.

They all have bigger names, but the one holding the MVP trophy at the end of the Wheelchair Charities HS Basketball Classic was Francis Lewis junior guard Kelly Robinson.
She had just two points in helping her Queens/Long Island squad defeat Manhattan, 60-54, in the championship game Wednesday night at Long Island University in Brooklyn, yet she ran the point exquisitely, getting those high Division I caliber talents the ball in perfect places.
Dolson of Minisink Valley (N.Y.) led the way with 16 points and Huber and Yale-bound Megan Vasquez of Calhoun (L.I.) each had eight points. Robinson was the consummate point guard Wednesday and in the semifinals against Brooklyn on Tuesday.
"She should be held in the same conversation as some of these elite guards," said Dom Cecala, Robinson's coach with the AAU NY Xplosion. "If you don't think she's an elite guard in New York City, you're not paying attention."
Her performance couldn't have come at a better time. Robinson is leaving Thursday for the Boo Williams AAU tournament in Virginia. It's one of the premier spring events in the country and she is hoping to raise her stock.
"I want to better my game," Robinson said. "I need to work on my jump shot and I need to get better on defense."
Right now, she has Marshall, UMass, Iona, Sacred Heart and Wright State interested. A strong summer would help put a strange, drama-filled school season behind her. Robinson transferred from Archbishop Molloy to Lewis and was joined by friends and AAU teammates Sabrina Jeridore and Ayana Duncanson. There was plenty of hype around the Patriots, but in December longtime coach Mike Eisenberg was reassigned for allegedly verbally abusing a student in his gym class and school guidance counselor Steve Tsai took over.
Lewis started off strong under Tsai, but went into a mid-season adjustment period that it only snapped out of in the playoffs. Of course, a mediocre year gave the Patriots a date with Murry Bergtraum in the quarterfinals, where they lost. It was the second time in two seasons that Robinson's team replaced a coach mid-season. Last year, John McGlynn resigned at Molloy and Cecala stepped in.
"I think it's me," she joked. "I guess I'm kind of used to it."
She'll have a chance to shine this spring and summer with the Xplosion. If she does, it might have all started at the Wheelchair Charities HS Basketball Classic where she held her own against players like Manhattan Center's China Crosby and Jennifer O'Neill of St. Michael Academy and with Dolson, Huber, McPherson and others.
"When you put her out there on the floor and watch her play with kids like that," Cecala said, "you could see how well she distributes the ball."
mraimondi@fiveborosports.com
---