Xplosion of success
11/23/09 - 12:38 PM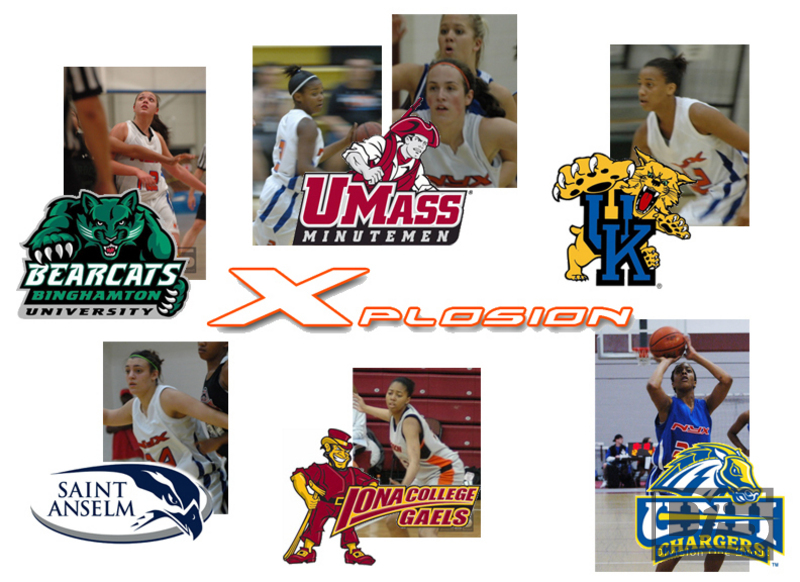 The Magnificent Seven!
Seven seniors from the Queens-based AAU program head to Division I and II schools
By JOSEPH STASZEWSKI
Last Updated: 7:40 AM, November 23, 2009
Posted: 11:36 PM, November 22, 2009
Kelly Robinson still remembers being 9 years old and walking into PS 133 in Bellerose for the first time to practice with Dom Cecala's AAU team. The now Francis Lewis senior guard came down to play on the recommendation of a family friend in search of teams with girls her own age and skill level.
"I just remember that I didn't talk to anybody," Robinson said. "I just went to the side and practiced."
Cecala saw more than just quiet youth.
"That kid opened up my eyes like you could never believe," he said. "At 9 years old that kid saw the floor better than most kids I saw out there. … She put so much effort into how she did things. I said, 'I want to build a squad around this kid.'"
Cecala did just that.
Other players were added along the way. Kyra Aloizos and Kastine Evans came first to form the core of the first NY Xplosion team that now has seven players heading to college on scholarships totaling more than a million dollars. They all signed their National Letter of Intent at Our Lady of Lourdes in Queens Village Sunday night.
"This group means a lot to me," said Cecala, the junior varsity coach at Christ the King. … "I don't know if I will ever have a group like this again. They are good kids. I really enjoyed this group."
Robinson is headed to UMass along with Sara English of Smithtown West, who joined the program this season. Aloizos of Archbishop Molloy is going to Binghamton and Evans, who attends Norwich Free Academy in Connecticut, will be playing at Kentucky next fall. Sabrina Jeridore and Ayana Duncanson of Francis Lewis earned scholarships to Iona and New Haven, respectively. Bishop Ford's Vanessa D'Ambrosi will attend St. Anselm.
"You had a group of people that were going through the same thing you were going through," Duncanson said. "So you got a lot of advice from everyone else."
Throughout the evening the players took the time to thank all involved in their success and share funny stories about each other and each other's parents. Jeridore jokingly called Robinson "Grandma" at one point.
They talked about the sense of family the program created. Their greatest thanks though went to Cecala, who let the team to the Junior National Championship when they were 12, 13 and 14 years old. They notched second plac when they were 11. Each player thanked him individually for helping them get to this point in their lives on and off the court.
"It shows how good of a guy Dom is," Robinson said. "That there are people who want to stay on his team and play for him for so long."

He was presented with a basketball signed by all seven players.


"This is better than all of the trophies," Cecala said.
The night brought a realization to many of the players that their great run together had ended, but it's certainly one they will always remember.
"As soon as Dom handed me those flowers, I was like, "Oh my god this is it,'" Aloizos said. "I am never going to play another game with them, as much as I want to."
jstaszewski@nypost.com
---